BREATHEANYWHERE WITH LUISA AND
Bianca in St. Peter-Ording
"... then I want to do it all the more!"
Race at high speed along the beach near St. Peter-Ording? Much too risky for a ventilation patient with progressive muscular dystrophy! That's what you think. "If someone says,'You can't do that,' then I want to do it all the more," says Bianca.
Her sister's death turned the world upside down. "It was as though someone had flipped a switch," Bianca recalls. The 44-year-old Hamburger is sitting in the dunes of St. Peter-Ording with a fresh North Sea breeze ruffling her long, blond hair. "All of a sudden, the wish for extreme experiences was there. And I thought to myself: Of course I want to go on a safari. . . Why not?"
Right. Why not? Well. . . maybe because Bianca has progressive muscular dystrophy, the very same incurable disease that took her sister's life? Maybe because the disease makes her dependent on a wheelchair and on LUISA, her ventilator? Don't they sound like real obstacles? Not the way Bianca sees it: "Whether I can walk or not doesn't matter. You set the limits yourself – in your head."
LEARN MORE ABOUT LUISA
LUISA
ventilator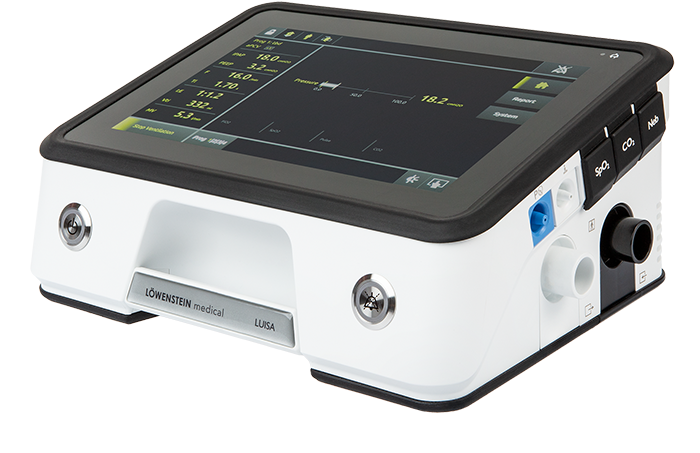 The safari in Africa, Bianca's first major expedition, is ancient history today. Emotionally, it was a great adventure and logistically, a 'tour de force'. And the proof that in Bianca's life much more is possible than seems at first glance.
"Sometimes you have to go the extra mile for the good things," says Bianca's husband Andreas, who does not leave her side during the expeditions. "If we say, 'We'll do that,' then we definitely do it!"
So what are the two of them doing here and now in St. Peter-Ording? "I want to race along the beach in a kite buggy," says Bianca, gazing on the endless stretch of sand on the other side of the dunes. "Anything involving lots of action is my thing. Then I feel free and alive and forget the pain I often have."
Bianca and Andreas have driven to St. Peter-Ording for a long weekend. Upon arrival, they relax, take a look around. From their spot in the dunes they can see the first buggies. Fantastic vehicles, remotely reminiscent of go-carts, are pulled, like kite surfers, by enormous sails reaching into the skies. At speeds of up to 70 kilometers per hour, they race over the beach, swirling clouds of sand behind them.
Fascinated, Bianca watches it all with big eyes. Isn't that a little scary? Isn't it too risky? "Some people who are close to me do worry," she says, "but it's my life. I know what I'm doing. And yes, I do think I'm rather brave." To make sure that the ride in a kite buggy is both exciting and safe, the team from Löwenstein Medical contacted a kite buggy pro in advance. Down on the beach, the buggy driving instructor Moritz welcomes Bianca and Andreas.
He waves toward his kite buggy and says, "I can take you along as a passenger on the back of the buggy. We just have to figure out how to buckle you in good and tight." In a short time the solution is found. "Bianca can stay in her wheelchair seat," Andreas explains. "It is well protected and buckled up. The seat can be removed from the wheelchair and can be fastened onto the buggy with belts."
Okay then, do it. Moritz and Andreas lift Bianca and the seat from the wheelchair and strap everything, including LUISA, onto the buggy. Helmet on, everyone in position. Finally, Moritz lets the kite fly. With a loud "whoosh" the kite rises from the sand, majestic and still in the sky over the kite buggy. For the moment. Then Moritz turns his kite into the wind. The buggy jerks and then suddenly takes off, moving fast.
As for Bianca? She gives in to the thrill, feels the speed, the wind that pounds her cheeks, the jolting of the buggy as it tears across the beach. "I could have jumped and screamed – it was awesome!" she says later when she's back in her wheelchair.
Andreas also had his turn in the buggy and now sits in the dunes, a broad grin across his face. "Bianca plays the starring role in my life. When I can make such experiences happen for her, it's a lot of fun for me too."
And so it goes: make a wish, plan carefully, enjoy the sensations, take a deep breath. What's up next? What adventures are still on Bianca's list? "I want to go to the Antarctic," says Bianca, as though she's casually mentioning the next North Sea vacation. "I have already been in the cyro chamber with wheelchair and ventilator. The technology can take the cold temperatures."
But, she stresses, her adventures don't always have to be extreme. "I enjoy the little things too – and I work my way forward from there."